Sometimes a small change can have a much greater impact. If you seek to improve your whole building and make it healthy, there's an invisible yet important part that can make a huge influence; which is Air. In other words, air quality indoors is key.
Why is it important?
Air quality indoors is the quality of air within a house, school, office, or any other building type. The whole atmosphere within a building is deeply related to it.
It is worth noting that poor air quality and lack of ventilation can cause many effects on human health. For instance, Sick Building Syndrome (SBS), contamination, discomfort, and other long-term health issues, which may lead you to strict legal liability.
How can you improve air quality indoors?
To ensure good air quality, you should start by maintaining your HVAC units and equipment.
Nordatec comprehends your whole HVAC system and identifies its lacks and needs. By using IoT to monitoring the HVAC, the facility manager can focus on the key activity and protect your whole building, and especially tenants' health.
You should improve outdoor air ventilation to decrease the risk of contaminants.
You can adjust your AC fleet settings or add new equipment. This will allow more ventilation to replace indoor air with fresh natural air.
This is however a double edged sword that requires careful consideration and skilled action:
Adding more fresh quickly increases the cooling costs.
Choosing and properly replacing the appropriate FAHU filter will have a direct impact on air quality and cost of air handling:

filters are not created equal and higher cost filters deliver better air quality
better filters create less resistance and reduce significantly the cost of air handling. The higher cost of filter pay back quickly against reduced air-handling energy costs.
This is where an IOT monitoring solution of the Fresh Air Handling unit (FAHU) is key to ensure:
the correct balance of fresh air vs cooling cost
the time for replacing filter and/or detecting improper cooling
Regardless of your building type, using advanced solutions as Energy Efficiency IoT Solutions will maximize effectiveness and productive indoor air quality.
On the one hand, poor air quality may result from weak management and monitoring of individual AC units, as Window AC or Fan Coil. Thus, these units encounter various problems. Whereas when you include an advanced Building Management System (BMS) or Asset and Performance Manager (APM), everything will be under control.
On the other hand, you can add new equipment to your existing units. For instance, LM-2000 integrates into existing Window, Split, FCU, Package and FAHU AC-unit, and it reveals the main controls of these AC units to a central management agent, as BMS-3000 and APM-3200.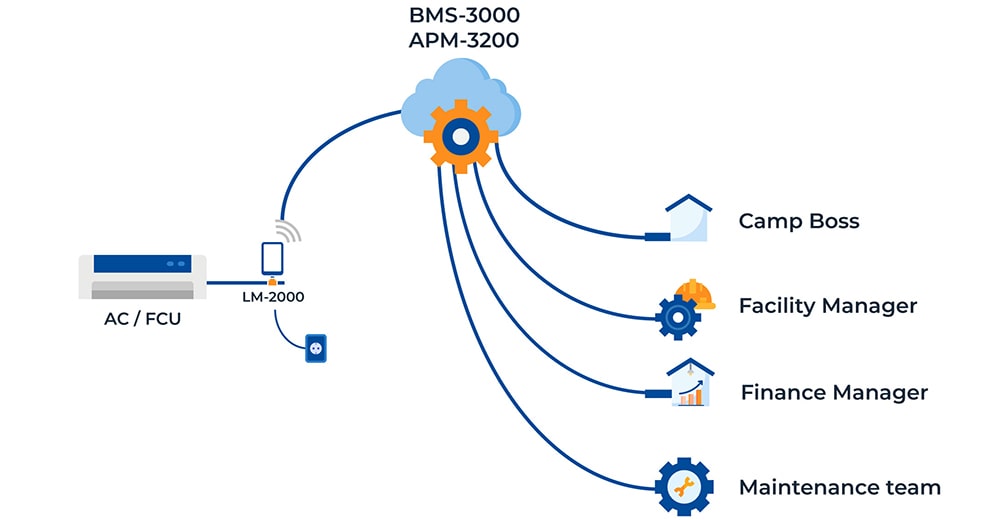 In Nordatec, we provide specific HVAC solutions to support and boost your building's sustainability. We examine, plan, and perform high-quality and affordable energy efficiency solutions while maintaining indoor environmental quality.