The energy consumption of labor camps facilities are surprisingly the highest among residential users. On top of using the natural resources, they add a heavy weight to the company's financial expenses.
It has been recorded that energy consumption per square meter in labor accommodations in general is 80% above the residential average in UAE. This fact is coming from Energy Usage Index measurements for a number of facilities, reaching as high as 480 kWh/m2/year while average residential EUI is only 255 kWh/m2/year in the UAE.
For the operator of a labour camp, it means that energy costs alone represent 6500 AED / year of a ten person room. In face of the increasing demand and consumption the energy prices could further rise and increase the burden. In a market where a room of 10 is rented for 2000 AED / month, the electricity price alone already eats 540 AED of the possible profit. Furthermore such lavish spending of natural resources is an issue for the company's corporate social responsibility and brand image.
As an Energy Service Company, we offer energy efficiency programs/solutions; designed by a highly qualified team of business managers, energy managers, SW designers, HVAC engineers, that integrate machines and data analysis to accomplish the prerequisites for ultimate effectiveness.
Our IoT machines are connected to the air conditioner devices/ Window AC/ Split AC / Cassette AC or any other cooling devices and measure, monitor, and control energy utilization. It is a complete system in the cloud for remote climate control, allowing management from the Smartphone, tablet, or any smart device. The cloud resources deliver the KPIs on the consumption combined with analytics. Rather than guessing, reliable and factual facility data brings the team on the same table to work on delivering ultimate comfort to end-users and controlled energy and water spendings. In a facility of 1000 people, as much as 2500 data points are analysed in real time and deliver a clear and actionable review of the building.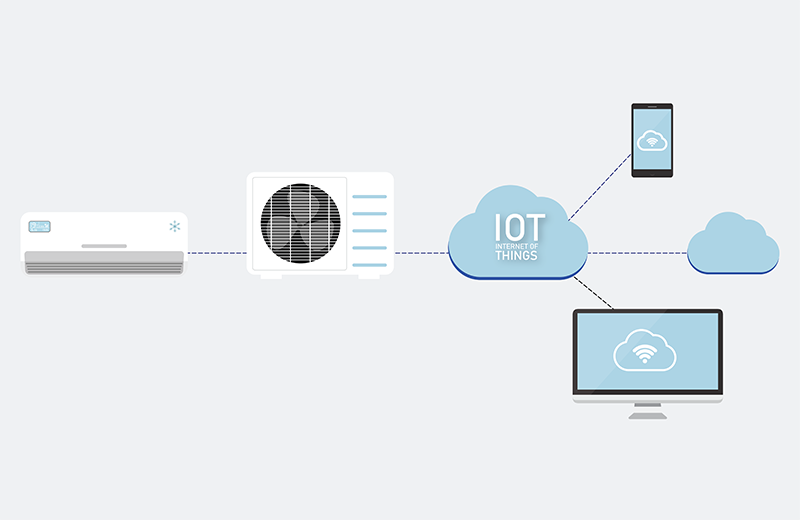 All main management functions share the same data together and address the same issues:
Facility managers
Camp boss
Maintenance team
Finance team
Customer care
Poor performance, malfunction, or any abnormal utilization are detected and the right actions can be taken immediately to correct problems before the energy usage value rises higher.
Our tools, the Web-based panel of BMS-3000 and APM-3200,  are light building management and monitoring systems that bring optimum use of energy. They allow your team to control and monitor the cooling in all rooms in a quick, safe and effective manner.
These various digitized functionalities cover different needs making the solutions personalised and unique. The fundamental qualities we would like to highlight are:
Real-Time Control and Monitor: we grant you the full control of your air conditioning framework, similar functionalities you have in your  Remote Controller, in addition to  many others.
Multi-Brand: Our system is compatible with almost all devices,so you can control all air conditioner units from a similar dashboard regardless of their brand.
Multi-User: Since more than one user might be utilizing the application we have set diverse user types. You can make and run different users, giving control of certain units and restricting the control of others depending on each user's need.
Multi-Site: With our IoT devices you are able to control more than one labour camp facility or project from the same dashboard.
To get an estimate for your facility consumption you can access our Energy bill estimate.
For energy audits and consultancy you can contact us through our website or call us on +971 50 429 5629.